Friends of Jim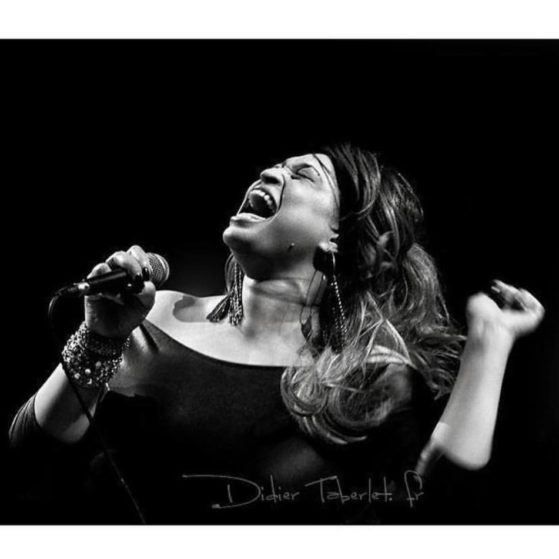 Raised in a General Motors fueled family, the classically and jazz trained JJ began performing at the tender age of 9 years old, and became a blues- shouting banshee by the time she was just 18 years old. She cut her teeth after moving down to Jackson, MS, where she performed with the celebrated "Chitlin' Circuit" superstars such as Marvin Sease. Thames has proven to be a true survivor as she scrambled her way to the top of the roots music heap, creating a soon to be world-renowned reputation.
A colorful mixture of traditional blues and soul, Thames began her career in the late 90's onstage with musicians and friends, Bobby Blue Bland, Peggy Scott Adams, Willie Clayton and Denise LaSalle to name just a few. She diversified her influence when she began to sing background vocals for reggae-rock band Outlaw Nation, and becoming immersed in another form of roots music, Reggae and Ska. As a background singer for Outlaw Nation, JJ began touring with many reggae and rock legends including Fishbone, The (English) Beat, Israel Vibrations, Bad Brains, and cult favorites Slightly Stoopid and 311. Her fans are a mixture of true genre bending, traditional blues fans, southern soul blues lovers, and ska rockers. Rockabilly and swing dancers, grey-haired hippies, and everyday folk of all ages flock to see JJ and hear her musical messages of love, pain, hope, freedom, and empowerment.
Thames' live shows are the stuff of legend. She honors the bold blues women of the past with both feet firmly planted in the now. With her heart on her sleeve, she belts, growls, shouts, croons and moans from a place deep within her soul that harkens back to the days of Chess, Bluebird and Stax Records. She uses music as therapy and often writes from her own life story, and chooses material with positive affirmations that leave the audience feeling healed and exhilarated.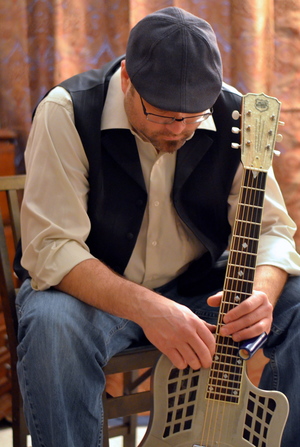 Unlike the current big music production companies of today who wait to insert the next voice in to their star making machine, Wes is just looking to connect the listener with the old spirit of the music. He wakes up something in them long forgotten and brings remembrance of a time of slower days with fewer distractions. People who are drawn to Wes Lee's personal brand of blended traditions and many styles, know that music does not come from the head, but from a deeper place. And they know that this music moves them. They see it—no, they feel it—when they are in the presence of Wes Lee performing at any of his various venues. They might not be able to tell you exactly what it is about Wes Lee's music that touches them, but they can tell you that they like it.
28 years of playing music in different cities, different venues with numerous talented players including sharing the stage with Tab Benoit, Tinsley Ellis, Vasti Jackson, Kenny Neal, Rory Block, Sonny Landreth. He plays over 200 dates a year of his original music on National resonators, a solo performer who can truly carry a show on his own.
"As far as bottling the lightning, I try to pull from everyone I listen to new and old alike, but always make sure it's me when it comes out. I'm not trying to "be or sound like someone else", only myself." – Wes Lee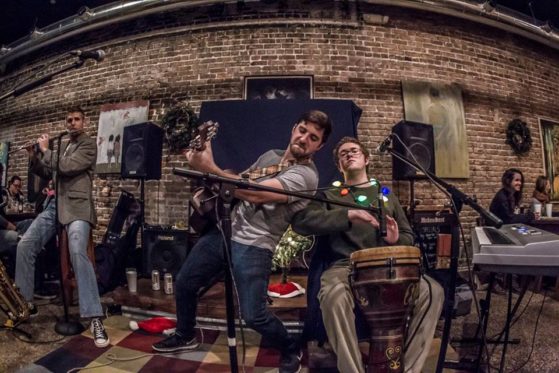 Jake and Kyle's Awesome Band is about playing music and creating a party at our shows. Our goal is to provide a fun and exciting night for our audience.
"Whether it be the two of them at the helm, or accompanied by a rich lineup of some of Hattiesburg's most talented musicians, Jake & Kyle's Awesome Band showcases a variety of music perfect for your next event."
The dynamic duo cover an array of genres including rock n' roll, funk, jazz, folk, hip-hop, and soul – inticing their audience with both original music and everyone's favorite cover songs.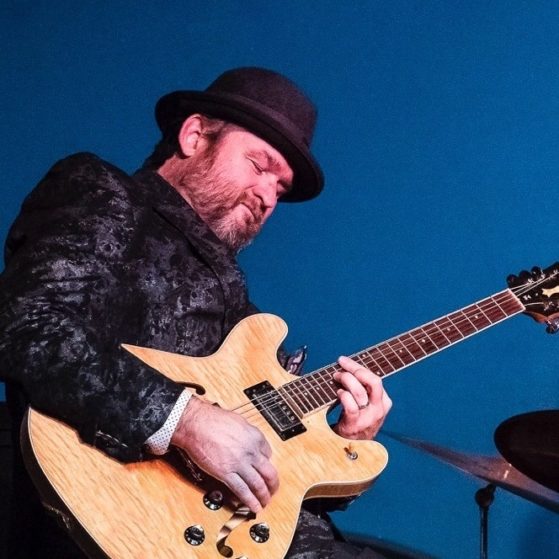 What do you get when you mix equal parts soul, funk, jazz, reggae, blues and a nice hefty scoop of New Orleans fat back boiled in a pot of full-out energy?
 You get the white hot sound of Chris Gill. Whether its with the fresh and heavy rhythmic grooves of the Sole Shakers, the exuberance of
D'mar & Gill, as a solo performer, or in any other setting you might find the guy. If you're hungry for something fresh and heavy in rhythm, Chris is guaranteed to satisfy.
Guitarist, singer, and songwriter Chris Gill has been lighting up stages in the mid-South for over twenty years. Armed with sweet guitar rhythms, a soulful voice and a clever, unique songwriter's perspective, Chris is well-known as one of Jackson, Mississippi's most entertaining performers. His songs incorporate elements of blues, rock, reggae, folk and dance tmusic.
Chris' style is a mix of blues, island calypso and reggae, jazz, Mississippi slide, and funk. He started playing guitar in the 5th grade, but says he was really bit by the bug when he started listening to Taj Mahal, B.B. King, Eric Clapton, and the Allman Brothers Band in college. "I saw Bonnie Raitt and Merle Haggard in Jackson," he says, "and that's when it hit me, this is what I want to do!
I love the healing power of music."
Want to Book Friends of Jim?